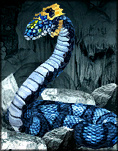 ---
Faction: Beasts
Tier: Special
Class: Warrior

An ancient snake is not only able to inflict serious damage, but use mind control as well. Often, lost travelers become mindless zombies under her influence.

Leadership: 100
Health: 850
Damage: 140-160
Damage Type: Physical
Range: 1
Attack: 200
Defense: 140
Initiative: 5
Speed: 3
Critical Hit Chance: 20%
Physical Resistance: 0%
Alchemical Resistance: 25%
Magical Resistance: 0%

Purchase Price: gold or gems
Repair Cost: gold and 4 stamina

Abilities
Edit
Fatal Bite
A bite inflicting 140-160 damage (physical?). Poisons Common or Special enemies, causing them damage over 2 turns
Damage:
140-160
Damage Type:
Physical?
Range:
1
Cooldown:
0 round(s)
Duration:
2 round(s)
Hypnosis
Hypnotizes a Common or Special enemy, putting them to sleep for 1 turn.
Range:
2
Cooldown:
5 round(s)
Duration:
1 round(s)
Features
Beast - Receives extra damage from units with the Hunter feature.
Relevant Items
Edit
Ancient Serpent Enhancing Items
Beasts Enhancing Items
Special Enhancing Items
Warrior Enhancing Items
Special Beasts Enhancing Items
Special Warrior Enhancing Items

| Level | Gold | Strategy Books | Crystals | Success Rate% (Gold/Crystals) | Bonuses |
| --- | --- | --- | --- | --- | --- |
| 1. | 10000 | 2 | 2 | 100/100 | +10 Attack |
| 2. | 27000 | 2 | 3 | 100/100 | +10 Defence, +3% Alchemical Resistance |
| 3. | 58000 | 2 | 5 | 100/100 | +10 Attack, +3% Physical Resistance |
| 4. | 90000 | 2 | 7 | 100/100 | +10 Defence |
| 5. | 120000 | 2 | 9 | 100/100 | +10 Attack, +2% Alchemical Resistance |
| 6. | 150000 | 2 | 12 | 100/100 | +25 Health, +10 Defence, +(5-10) Damage for Fatal Bite |
| 7. | 170000 | 3 | 15 | 90/100 | +11 Attack, +1% Magical Resistance |
| 8. | 190000 | 3 | 18 | 80/100 | +11 Defence, +1% Physical Resistance |
| 9. | 205000 | 4 | 22 | 70/100 | +12 Attack, +2% Critical Hit Chance |
| 10. | 225000 | 4 | 27 | 60/100 | +30 Health, +1% Magical Resistance, +10 Damage for Fatal Bite |
| 11. | 240000 | 5 | 33 | 50/100 | +12 Attack, +12 Defence |
| 12. | | | | | +12 Defence, -1 recharge time for Hypnosis |
| 13. | | | | | +13 Attack, +1 Initiative |
| 14. | | | | | +45 Health, +13 Defence |
| 15. | | | | | +14 Attack, +2% Magical Resistance, +15 Damage for Fatal Bite |
The total boost this unit will get after being fully upgraded:
+92 Attack
+78 Defence
+100 Health
+(30-35) Damage for Fatal Bite
-1 recharge time for Hypnosis
+4% Physical Resistance
+4% Magical Resistance
+5% Alchemical Resistance
+1 Initiative
+2% Critical Hit Chance