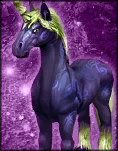 ---
Faction: Chaos
Tier: Special
Class: Warrior

Black magic has disastrous effects on all living creatures. But unicorns, due to their natural vitality, are able to withstand the effects of dark curses and use them for extra strength. Now these unicorns are an excellent addition to any army.

Leadership: 150
Health: 1250
Damage: 230-250
Damage Type: Physical
Range: 1
Attack: 220
Defense: 120
Initiative: 6
Speed: 3
Critical Hit Chance: 12%
Physical Resistance: 0%
Alchemical Resistance: 15%
Magical Resistance: 5%

Purchase Price: gold or gems
Repair Cost: gold and 4 stamina

Abilities
Edit
Elemental Fury
An attack that inflicts 230-250 points of physical damage.
Damage:
230-250
Damage Type:
Physical
Range:
1
Cooldown:
0 round(s)
Awakening
The forces of darkness heal an allied squad by 150 health each turn.
Range:
7
Cooldown:
1 round(s)
Duration:
2 round(s)
Features
Hatred of Light - Deals 15% more damage to units with the Servant of the Light feature.
Beast - Receives extra damage from units with the Hunter feature.
Relevant Items
Edit
Black Unicorn Enhancing Items
Chaos Enhancing Items
Special Enhancing Items
Warrior Enhancing Items
Special Chaos Enhancing Items
Special Warrior Enhancing Items

| Level | Gold | Strategy Books | Crystals | Success Rate % (Gold/Crystals) | Bonuses |
| --- | --- | --- | --- | --- | --- |
| 1 | 12000 | 2 | 2 | 100/100 | +10 Attack |
| 2 | 24000 | 2 | 3 | 100/100 | +10 Defence, +2% Magical resistance |
| 3 | 46000 | 2 | 5 | 100/100 | +10 Attack, +4% Alchemical resistance |
| 4 | 75000 | 2 | 7 | 100/100 | +10 Defence |
| 5 | 110000 | 2 | 9 | 100/100 | +10 Attack, +2% Alchemical resistance |
| 6 | 130000 | 2 | 12 | 100/100 | +20 Health, +1% Magical resistance, +(5-10) damage for Elemental Fury |
| 7 | 150000 | 3 | 15 | 90/100 | +11 Defence, +2% Critical hit |
| 8 | 170000 | 3 | 18 | 80/100 | +11 Attack, +10 basic healing and +10 healing per turn for Awakening |
| 9 | 190000 | 4 | 22 | 70/100 | +12 Defence, +1% Alchemical resistance |
| 10 | 220000 | 4 | 27 | 60/100 | +30 Health, +2% Physical resistance, +(10-15) damage for Elemental Fury |
| 11 | 240000 | 5 | 33 | 50/100 | +12 Attack, +2% Critical hit |
| 12 | 260000 | 5 | 40 | 40/100 | +13 Defence, +20 basic healing and +20 healing per turn for Awakening |
| 13 | 280000 | 6 | 50 | 35/100 | +13 Attack, +1 Initiative |
| 14 | 300000 | 6 | 60 | 30/100 | +14 Defence, +2% Magical resistance |
| 15 | | | | | +50 Health, +14 Attack, +(15-25) damage for Elemental Fury |
The total boost this unit will get after being fully upgraded:
+80 Attack
+70 Defence
+100 Health
+(30-50) Damage for Elemental Fury
+30 basic healing and +30 healing per turn for Awakening
+2% Physical Resistance
+5% Magical Resistance
+7% Alchemical Resistance
+1 Initiative
+4% Critical Hit Chance