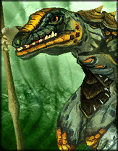 ---
Faction: Ancients
Tier: Special
Class: Warrior

These semi-sentient lizards reached their zenith by the end of the War. They quickly took over lands vacated by the humans and other races, spreading unusually quickly. The magic of the gargoyles is primitive but deadly. It's not wise to get too close to a Gargoyle Hunter, unless you want to be pounded by elemental magic or dealt a shattering blow from his spear.

Leadership: 100
Health: 1000
Damage: 180-210
Damage Type: Physical
Range: 1
Attack: 150
Defense: 130
Initiative: 6
Speed: 3
Critical Hit Chance: 15%
Physical Resistance: 0%
Alchemical Resistance: 15%
Magical Resistance: 0%

Purchase Price: gold or 8 gems
Repair Cost: 150 gold and 4 stamina

Abilities
Edit
Spear Attack
A gargoyle spear attack inflicting 160-180 damage (physical)
Damage:
160-180
Damage Type:
Physical
Range:
1
Cooldown:
0 round(s)
Thunderbolt
A primeval energy blast dealing 60-80 damage (magical).
Damage:
100-120
Damage Type:
Magical
Range:
4
Cooldown:
5 round(s)
Whirlwind
The Gargoyle creates a cyclone around himself, hitting neighboring enemies with 80-100 damage
Damage:
60-80
Damage Type:
Physical
Range:
self
Cooldown:
6 round(s)
Features
Hunter - Deals 10% more damage to units with the Beast feature.
Relevant Items
Edit
Gargoyle Hunter Enhancing Items
Ancients Enhancing Items
Special Enhancing Items
Warrior Enhancing Items
Special Ancients Enhancing Items
Special Warrior Enhancing Items

| Level | Gold | Strategy Books | Crystals | Success Rate% (Gold/Crystal) | Bonuses |
| --- | --- | --- | --- | --- | --- |
| 1. | 12000 | 2 | 2 | 100/100 | +10 Defence |
| 2. | 32000 | 2 | 3 | 100/100 | +10 Defence, +2% Magical Resistance |
| 3. | 67000 | 2 | 5 | 100/100 | +10 Attack, +4% Alchemical Resistance |
| 4. | 100000 | 2 | 7 | 100/100 | +10 Defense |
| 5. | 135000 | 2 | 9 | 100/100 | +10 Attack, +2% Magical |
| 6. | 150000 | 2 | 12 | 100/100 | +20 Health, +2% Physical Resistance, +10 Damage for Spear Attack |
| 7 | 165000 |          3 | | 90/100 | +12 Attack, +(5-10) Damage for Thunderbolt |
| 8 | 180000 |          3 |      18 | 80/100 | +12 Defence, +(5-10) Damage for Whirlwind |
| 9 | 200000 | 4 | 22 | 70/100 | +12 Attack, +2% Critical Hit |
| 10 | 225000 | 4 | 28 | 60/100 | +25 Health, +13 Defence, +(10-15) Damage for Spear Attack |
| 11 | 240000 | 5 | 34 | 50/100 | +13 Attack, +10 Damage for Thunderbolt |
| 12 | 260000 | 5 | 40 | 40/100 | +13 Defence, +10 Damage for Whirlwind |
| 13 | 280000 |          6 |      50 |              35/100 | +14 Attack, +2% Alchemical Resistance, -1 cooldown for Whirldwind |
| 14 | 305000 |          6 |      60 |              30/100 | +45 Health, +14 Defence |
| 15 | 340000 |          7 |      80 |              25/100 | +15 Attack, +15 Damage for Spear Attack, -1 cooldown for Thunderbolt |
The total boost this unit will get after being fully upgraded: 
+86 Attack
+82 Defense
+90 Health
+(30-35) Damage for Spear Attack
+(15-25) Damage for Thunderbolt
+(15-25) Damage for Whirlwind
-1 cooldown for Thunderbolt and Whirlwind
+2% Critical Hit Chance
+2% Physical Resistance
+4% Magical Resistance
+6% Alchemical Resistance