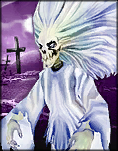 ---
Faction: Chaos
Tier: Common
Class: Warrior

The Cataclysm didn't completely kill everyone. Spirits chained to this world still roam the ruins of what were once cities. These ghost don't just drink the life of their victims, they weaken their victims' strength as they do so.

Leadership: 80
Health: 700
Damage: 130-160
Damage Type: Physical
Range: 1
Attack: 110
Defense: 50
Initiative: 4
Speed: 3
Critical Hit Chance: 12%
Physical Resistance: 10%
Alchemical Resistance: 10%
Magical Resistance: 0%

Purchase Price: gold or gems
Repair Cost: gold and 2 stamina

Abilities
Edit
Ghastly Blow
An attack that inflicts 130-160 points of physical damage.
Damage:
130-160
Damage Type:
Physical
Range:
1
Cooldown:
0 round(s)
Soul Abduction
A part of the enemy's soul is sucked away, restoring 100 health and raising fallen ghosts. Note: Ignores defense and resistances.
Damage:
100-100
Damage Type:
Special
Range:
1
Cooldown:
3 round(s)
Features
Undead - Receives extra damage from units with the Servant of the Light feature.
Relevant Items
Edit
Ghost Enhancing Items
Chaos Enhancing Items
Common Enhancing Items
Warrior Enhancing Items
Common Chaos Enhancing Items
Common Warrior Enhancing Items

| Level | Gold | Strategy Books | Crystals | Success Rate % (Gold/Crystals) | Bonuses |
| --- | --- | --- | --- | --- | --- |
| 1 | 2500 | 1 | 1 | 100/100 | +10 Attack |
| 2 | 8000 | 1 | 2 | 100/100 | +10 Defense |
| 3 | 21000 | 1 | 3 | 100/100 | +10 Attack, +3% Alchemical resistance |
| 4 | 46000 | 1 | 4 | 100/100 | +10 Defense |
| 5 | 85000 | 1 | 5 | 100/100 | +10 Attack, +2% Alchemical resistance |
| 6 | 110000 | 1 | 7 | 100/100 | +10 Health, +1% Magical resistance, +5 damage Ghastly Blow |
| 7 | 120000 | 1 | 9 | 100/100 | +11 Attack, +2% Critical hit |
| 8 | 130000 | 2 | 12 | 90/100 | +11 Defense, +1% Physical resistance |
| 9 | 140000 | 2 | 15 | 80/100 | +15 Health, +1 Initiative |
| 10 | 155000 | 3 | 18 | 70/100 | +12 Attack, +10 damage Ghastly Blow |
| 11 | 165000 | 4 | 22 | 60/100 | +12 Defense, +2% Alchemical resistance |
| 12 | 180000 | 4 | 27 | 50/100 | +20 Health, +1% Magical resistance |
| 13 | 190000 | | | 40/100 | +13 Attack, +1% Physical resistance |
| 14 | | | | | +13 Defense, +1% Magical resistance |
| 15 | | | | | +25 Health, +15 Attack, +15 damage Ghastly Blow |
The total boost this unit will get after being fully upgraded:
+81 Attack
+56 Defence
+70 Health
+30 Damage for Ghastly Blow
+2% Physical Resistance
+3% Magical Resistance
+7% Alchemical Resistance
+1 Initiative
+2% Critical Hit Chance