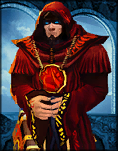 ---
Faction: Kingdom
Tier: Special
Class: Mage

Inquisitors spend many years of their lives studying the secrets of magic. By sacrificing part of his soul, the Inquisitor gains the ability to both resurrect allies and cast powerful curses on his enemies.

Leadership: 110
Health: 750
Damage: 130-150
Damage Type: Magical
Range: 6+
Attack: 160
Defense: 100
Initiative: 3
Speed: 2
Critical Hit Chance: 8%
Physical Resistance: 0%
Alchemical Resistance: 0%
Magical Resistance: 0%

Purchase Price: gold or gems
Repair Cost: gold and 4 stamina

Abilities
Edit
Judgment
A powerful blast of astral energy. Inflicts 130-150 damage (magical).
Damage:
130-150
Damage Type:
Magical
Range:
6+
Cooldown:
0 round(s)
Resurrection
Heals an ally by 250 health, and resurrects the fallen
Range:
max
Cooldown:
4 round(s)
Lameness
Slows target Common or Special unit by 1
Range:
max
Cooldown:
3 round(s)
Duration:
1 round(s)
Features
Servant of the Light - Deals 15% more damage to units with the Undead feature.
Relevant Items
Edit
Inquisitor Enhancing Items
Kingdom Enhancing Items
Special Enhancing Items
Mage Enhancing Items
Special Kingdom Enhancing Items
Special Mage Enhancing Items

Level
Gold
Strategy Books
Crystals

Success Rate %

(Gold/Crystals)

Bonuses
1
11000
2
2
100/100
+10 Attack
2
33000
2
3
100/100
+10 Attack, +10 Defense
3
67000
2
5
100/100
+20 Attack, +3% Alchemical resistance
4
95000
2
7
100/100
+10 Defense
5
120000
2
9
100/100
+10 Attack, +2% Physical resistance
6
160000
2
12
100/100
+20 Health, +1% Magical resistance, +5 damage Judgment
7
180000
3
15
90/100
+11 Attack, +10 healing Resurrection
8
200000
3
18
80/100
+11 Defense, +1% Alchemical resistance
9
220000
4
22
70/100
+12 Attack, +1% Magical resistance
10
250000
4
27
60/100
+30 Health, +12 Defense, +10 damage Judgment
11
270000
5
33
50/100
+13 Attack, +15 healing Resurrection
12
290000
5
40
40/100
+13 Defense, +1% Magical resistance
13
310000
6
50
35/100
+13 Attack, +2% Alchemical resistance
14
330000
6
60
30/100
+30 Health, +1 Initiative, +(10-15) damage Judgment
15
360000
7
80
25/100
+14 Defense, +2% Physical resistance, +20 healing Resurrection
The total boost this unit will get after being fully upgraded:
+99 Attack
+70 Defense
+50 Health
+(20-25) Damage for Judgement
+45 Healing for Resurrection
+4% Physical Resistance
+3% Magical Resistance
+6% Alchemical Resistance
+1 Initiative