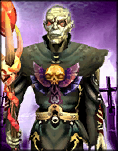 ---
Faction: Chaos
Tier: Special
Class: Mage

Necromancers are servants of the Cult of Renegades, many of whom worship Speakers to the Dead. Although these protectors are far less powerful than the battle mages of the Order, their ability to use dark spells can be a significant advantage on the battlefield.

Leadership: 160
Health: 1000
Damage: 210-220
Damage Type: Magical
Range: max
Attack: 170
Defense: 120
Initiative: 1
Speed: 2
Critical Hit Chance: 6%
Physical Resistance: 0%
Alchemical Resistance: 15%
Magical Resistance: 0%

Purchase Price: gold or gems
Repair Cost: gold and 4 stamina

Abilities
Edit
Dark Lightning
A shot of dark magic. Inflicts 210-220 damage (magical) on the target and 50% damage on neighboring targets
Damage:
210-220
Damage Type:
Magical
Range:
max
Cooldown:
0 round(s)
Sacrifice
By Consuming an ally's vital force, the necromancer revives himself and heals by 250, resurrecting the fallen. The target releases its inner force, boosting its attack by 50.
Range:
max
Cooldown:
4 round(s)
Duration:
 ? round(s)
Features
Confusion - Unable to counterattack.
Undead - Receives extra damage from units with the Servant of the Light feature.
Relevant Items
Edit
Necromancer Enhancing Items
Chaos Enhancing Items
Special Enhancing Items
Mage Enhancing Items
Special Chaos Enhancing Items
Special Mage Enhancing Items

| Level     | Gold     | Strategy Books     | Crystals     | Success Rate % (Gold/Crystals)     | Bonuses   |
| --- | --- | --- | --- | --- | --- |
| 1         | 13000  | 2 | 2 | 100/100 | +3% Alchemical resistance     |
| 2         | 26000 | 2 | 3 | 100/100 | +10 Defence     |
| 3         | 48000 | 2 | 5 | 100/100 | +10 Attack, +2% Magical resistance     |
| 4          |    77000        | 2 | 7 | 100/100 | +10 Defence      |
| 5          | 120000    | 2 | 9 | 100/100 | +10 Attack, +2% Alchemical resistance      |
| 6        | 140000 | 2 | 12 | 100/100 | +20 Health, +11 Defence, +(10-20) damage Dark Lightning      |
| 7        | 160000 | 3 | 15 | 90/100 | +11 Attack, +1 Initiative      |
| 8       | 180000 | 3 | 18 | 80/100 | +11 Defence, +2% Critical hit     |
| 9       | 200000  | 4 | 22 | 70/100 | +12 Attack, +1% Alchemical resistance     |
| 10       |   230000      | 4 |      27    | 60/100 | +30 Health, +2 Physical resistance, +(15-25) damage Dark Lightning     |
| 11       |   250000      |     5     | 33 | 50/100 | +12 Attack, +1% Magical resistance     |
| 12       |  270000        |  5        | 40         | 40/100         | +13 Defence, +2% Critical hit     |
| 13       |   290000       |   6       | 50         | 35/100         | +13 Attack, +2% Alchemical resistance     |
| 14       |   315000       |   6       |  60        |   30/100       | +14 Defence, +1 Initiative     |
| 15       |   345000       | 7 | 80 | 25/100 | +40 Health, +10 Attack, +(20-30) damage Dark Lightning     |
The total boost this unit will get after being fully upgraded:
+78 Attack
+69 Defence
+90 Health
+(65-75) Damage for Dark Lightning
+2% Physical Resistance
+3% Magical Resistance
+7% Alchemical Resistance
+2 Initiative
+4% Critical Hit Chance