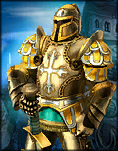 ---
Faction: Kingdom
Tier: Legendary
Class: Defender

Paladins are, without a doubt, the elite warriors of the Royal Army. They bear enchanted armor. Using spiritual strength, they energize their swords, which then can strike several enemies with one blast of astral energy.

Leadership: 220
Health: 1800
Damage: 330-390
Damage Type: Physical
Range: 1
Attack: 260
Defense: 320
Initiative: 3
Speed: 2
Critical Hit Chance: 10%
Physical Resistance: 40%
Alchemical Resistance: 10%
Magical Resistance: 10%

Purchase Price: gold or 28 gems
Repair Cost: 500 gold and 6 stamina

Abilities
Edit
Chop Attack
A powerful blow that inflicts 330-390 points of physical damage.
Damage:
330-390
Damage Type:
Physical
Range:
1
Cooldown:
0 round(s)
Divine Judgment
The Paladin appeals to the Gods, bringing chain lighting down on the enemy, which deals up to 400-450 magical damage, hitting 5 nearby enemies. Note: The target cannot fight back.
Damage:
400-450
Damage Type:
Magical
Range:
1
Cooldown:
4 round(s)
Prayer
Prayer heals the Paladin and his nearby allies within 1 cell by 300 and additionally by 200 over the following turns.
Range:
self
Cooldown:
4 round(s)
Duration:
2 round(s)
Features
Servant of the Light - Deals 15% more damage to units with the Undead feature.
Relevant Items
Edit
Paladin Enhancing Items
Kingdom Enhancing Items
Legendary Enhancing Items
Defender Enhancing Items
Legendary Kingdom Enhancing Items
Legendary Defender Enhancing Items

Unit can be upgraded 15 times, with each upgrade costing Gold and Strategy books or it can be upgraded using only Crystals. Each upgrade has a certain success rate, which decreases the higher the level of the upgrade.
Level

Gold
Strategy books
Crystals
Success rate (Gold)
Success rate (Crystals)
Bonuses
1.
19.000
3
3
100%
100%

+10 Defense

2.
40.000
3
5
100%
100%
3.
90.000
3
7
100%
100%
4.
140.000
3
9
100%
100%

+10 Attack

5.
210.000
3
100%
100%

+10 Defense
+2% Physical resistance

6.
240.000
3
15
90%
100%

+40 Health
+2% Magical resistance
+15 Damage for Chop Attack

7.
260.000
4
20
80%
100%

+12 Attack
+20 Basic healing for Prayer
+20 Healing per turn for Prayer

8.
280 000
4
25
70%
100%

+13 Defense
+15 Damage for Divine Judgement

9.
300 000
5
30
60%
100%

+13 Attack
+2% Alchemical resistance

10.
320 000
5
40
50%
100%

+50 Health
+2% Physical resistance
+(15-20) Damage for Chop Attack

11.
340 000
       6
    50
      40%
      100%

+14 Defense
+20 Basic healing for Prayer
+20 Healing per turn for Prayer

12.
360 000
       6
    60
      35%
      100%

+14 Attack
+(15-25) Damage for Divine Judgement

13.
380 000
       7
    70
      30%
      100%

+14 Defense
+3% Magical Resistance
-1 Recharge time for Prayer

14.
400 000
       7
    80
      25%
      100%

+50 Health
+(15-30) Damage for Chop Attack

15.
430 000
       8
   100
      20%
      100%

+15 Attack
+15 Defense
+(20-40) Damage for Divine Judgement
The total boost this unit will get after being fully upgraded: 
+ (45-65) Damage for Chop Attack
+ (50-80) Damage for Divine Judgement
+40 Basic healing for Prayer
+40 Healing per turn for Prayer
+2% Alchemical Resistance
-1 Recharge time for Prayer