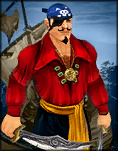 ---
Faction: Kingdom
Tier: Common
Class: Warrior

Formerly tranquil, the waters of the Archipelago of Hope were filled now with ships prowling about in search of victims. Even though the glory of the Scarlet Corsairs has long passed, today's pirates are still blood thirsty and powerful enemies. Cutlasses and quick movements mean that pirates can serve as formidable fighting units in your army.

Leadership: 25
Health: 220
Damage: 40-50
Damage Type: Physical
Range: 1
Attack: 100
Defense: 60
Initiative: 5
Speed: 3
Critical Hit Chance: 15%
Physical Resistance: 0%
Alchemical Resistance: 10%
Magical Resistance: 0%

Purchase Price: gold or gems
Repair Cost: gold and 2 stamina

Abilities
Edit
Saber Strike
A attack with a sharp saber that inflicts 40-50 points of physical damage.
Damage:
40-50
Damage Type:
Physical
Range:
1
Cooldown:
0 round(s)
Dash
Speed increased by 1. Does not end the turn. Duration: 1 turn.
Range:
self
Cooldown:
3 round(s)
Duration:
1 round(s)
Features
Quick as Lightning - Quick attacks inflict 10% more damage on targets with a speed of one.
Relevant Items
Edit
Pirate Enhancing Items
Kingdom Enhancing Items
Common Enhancing Items
Warrior Enhancing Items
Common Kingdom Enhancing Items
Common Warrior Enhancing Items

| Level | Gold | Strategy Books | Crystals | Success Rate % (Gold/Crystals) | Bonuses |
| --- | --- | --- | --- | --- | --- |
| 1 | 2500 | 1 | 1 | 100/100 | +10 Attack |
| 2 | 7000 | 1 | 2 | 100/100 | +10 Attack, +1 Initiative |
| 3 | 16000 | 1 | 3 | 100/100 | +10 Attack, +10 Defense |
| 4 | 35000 | 1 | 4 | 100/100 | +10 Defense |
| 5 | 60000 | 1 | 5 | 100/100 | +10 Attack, +2% Alchemical resistance |
| 6 | 90000 | 1 | 7 | 100/100 | +10 Health, +10 Defense, +5 damage Saber Strike |
| 7 | 115000 | 1 | 9 | 100/100 | +11 Attack, +1% Physical resistance |
| 8 | 125000 | 2 | 12 | 90/100 | +11 Defense, +1% Magical resistance |
| 9 | 135000 | 3 | 15 | 80/100 | +12 Defense, +12 Attack |
| 10 | 150000 | 3 | 18 | 70/100 | +15 Health, +1% Alchemical resistance, +(5-10) damage Saber Strike |
| 11 | 160000 | 4 | 22 | 60/100 | +12 Attack, +1% Physical resistance |
| 12 | 170000 | 4 | 27 | 50/100 | +12 Defense, +2% Critical hit |
| 13 | 180000 | 5 | 33 | 40/100 | +13 Attack, +2% Magical resistance |
| 14 | 195000 | 5 | 40 | 35/100 | +20 Health, +13 Defense |
| 15 | 210000 | 6 | 50 | 30/100 | +20 Health, +13 Attack, +10 damage Saber Strike |
The total boost this unit will get after being fully upgraded:
+75 Attack
+78 Defense
+65 Health
+(20-25) Damage for Saber Strike
+2% Physical Resistance
+3% Magical Resistance
+3% Alchemical Resistance
+1 Initiative
+2% Critical Hit Chance