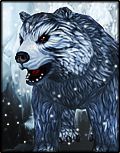 ---
Faction: Beasts
Tier: Special
Class: Defender

An inhabitant of the northern islands of the Archipelago, the Polar Bear possesses immense health and physical power. Danger evokes the Spirit of the North in the Polar Bear, which reduces the creature's mobility, but protects it from damage, while Ice Claws enable it to slow down enemies.

Leadership: 150
Health: 1400
Damage: 220-240
Damage Type: Physical
Range: 1
Attack: 180
Defense: 180
Initiative: 4
Speed: 3
Critical Hit Chance: 12%
Physical Resistance: 20%
Alchemical Resistance: 10%
Magical Resistance: 0%

Purchase Price: gold or gems
Repair Cost: gold and 4 stamina

Abilities
Edit
Bear Bite
A horrible bite dealing 220-240 damage.
Damage:
220-240
Damage Type:
Physical
Range:
1
Cooldown:
0 round(s)
Spirit of the North
The Spirit of the North awakens in the Bear, reducing its speed by 1 but increasing resistance by 15%. Does not end the turn.
Range:
self
Cooldown:
3 round(s)
Duration:
2 round(s)
Ice Claws
A powerful blow with a clawed paw dealing 240-260 damage (magic) and lowering Common or Special unit speed by 1.
Damage:
240-260
Damage Type:
Magical
Range:
1
Cooldown:
4 round(s)
Duration:
1 round(s)
Features
Beast - Receives extra damage from units with the Hunter feature.
Relevant Items
Edit
Polar Bear Enhancing Items
Beasts Enhancing Items
Special Enhancing Items
Defender Enhancing Items
Special Beasts Enhancing Items
Special Defender Enhancing Items

| Level | Gold | Strategy Books | Crystals | Success Rate% (Gold/Crystals) | Bonuses |
| --- | --- | --- | --- | --- | --- |
| 1. | 12000 | 2 | 2 | 100/100 | +10 Defence |
| 2. | 35000 | | | | +10 Attack |
| 3. | 69000 | | | | +20 Defence, +3% Alchemical Resistance |
| 4. | 140000 | | | | +10 Attack |
| 5. | 285000 | | | | +10 Defence, +2% Physical Resistance |
| 6. | | | | | +25 Health, +1% Magical Resistance, +10 damage for Bear Bite |
| 7. | | | | | +12 Attack, +2% Physical, Magical, Alchemical Resistance for Spirit of the North |
| 8. | | | | | +12 Defence, +10 damage for Ice Claws |
| 9. | | | | | +12 Attack, +12 Defence |
| 10. | | | | | +30 Health, +1 Initiative, +(10-15) damage for Bear Bite |
| 11. | | | | | +12 Attack, +2% Physical, Magical, Alchemical Resistance for Spirit of the North |
| 12. | | | | | +2% Physical Resistance, +(10-15) damage for Ice Claws |
| 13. | | | | | +35 Health, -1 cooldown for Ice Claws |
| 14. | | | | | +13 Attack, +(10-20) damage for Bear Bite |
| 15. | | | | | +50 Health,+(15-25) damage for Ice Claws, +2% Physical, Magical, Alchemical Resistance for Spirit of the North |